VOILAAA
ACTIVE CREOLISATION

AN INTERVIEW WITH BRUNO "PATCHWORKS" HOVART FROM VOILAAA

Since many years Voilaaa brings back the best of the afro-disco genre crafting several hits and festive bangers : "Spies Are Watching Me", "Ben Bene La", "On Te L'avait Dit", "Tu Mens Devant Moi" are just a few titles of his enormous production that will surely remind you some of your best moves on the dancefloor and great memories.

Also behind several others monitors as Taggy Matcher, Mr President or Patchworks, the man is unstoppable. For many, he represents the perfect example of the modern multi-intrumentist producer with a great sound. Bruno has indeed many skills, shall it be in the studio or on stage with the Voilaaa Soundsystem.
It was about time for an interview in his studio in Lyon where he gave us a tour, taking the time time explain what is Voilaaa and some of his production mantras.
Also, don't miss the upcoming release of his new 12″ Remixes where you'l hear new flavors mixed with  some of his biggest hits.
Remixes will be available on May 27th 2022 as Vinyl 12″ & Digital.
WHERE IS YOUR STUDIO LOCATED?

The studio is at my place, it's a room in my apartment dedicated to music.  I live in Lyon, in the Croix-Rousse slopes. It's not big but it's enough to work and I also have a dedicated room to host a musician for a few days if we're working on a collaboration. Croix Rousse is a good neighbourhood for music where it's easy to meet people. From this point of view, Lyon is really a good city for that. It's actually there that the Voilaaa project was born.
CAN YOU EXPLAIN WHAT IS THE DIFFERENCE BETWEEN VOILAAA AND VOILAAA SOUNDSYSTEM?

Most the people don't really make the difference but it's quite important: Voilaaa, it's me, the producer who craft the records and Voilaaa Soundsystem is a scenic act with Pat Kalla and Lass as singers, Freakistan is the DJ, and myself on various additional instruments.
In the studio, with Voilaaa, I'm my own boss and I take the decisions. On stage, with Voilaaa Soundsystem, it's Freakistan who's the boss and decides the organization of the show, along with Lass and Pat Kalla who're really in relation with the public as frontmen singers. Roles are spread according to the skills!
But there is a real synergy: Voilaaa Sounsystem sings and exploits titles born in the studio, and in the studio, I regularly use some ideas found on stage with the rest of the crew. There is a sort of symbiosis, a virtuous spiral.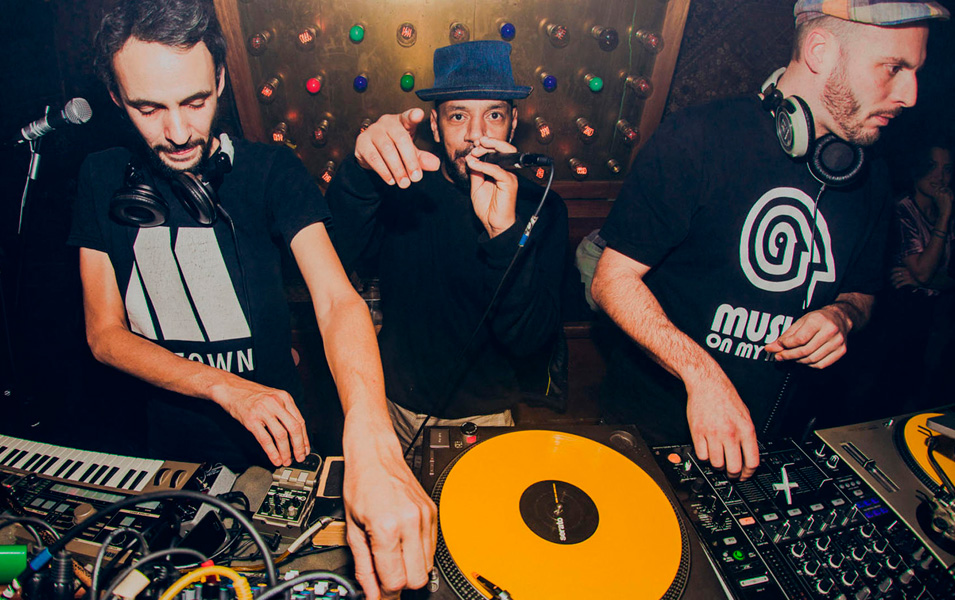 Voilaaa Soundsystem: Patchworks, Pat Kalla, DJ Freakistan
CAN YOU DESCRIBE THE PROJECT OF THE ALBUM, THE PREPARATION, YOUR NETWORK OF FRIEND WHO PARTICIPATED TO THE ALBUM? 
Totally! We're the sum of really different individuals and I have got the feeling we're much more than that, the collective creates additional value for every one of us. We're from totally different cultures even if they partially come across each other. It's a real asset.
Making music is for us the occasion to live what we defend, through our lives and work. Voilaaa Soundsystem and the Voilaaa projects are both examples.
We live in a world saturated by injunctions, where everyone has to fulfil a case. For me, it's more pragmatic: we live the way we are. So, Voilaaa is engaged but not by its declarations, more by its acts and music. We like to be juged on what we do, more than on who we are !
THIS ALSO BRINGS US TO THE QUESTION YOU PROBABLY HAD TO ANSWER BEFORE ABOUT CULTURAL APPROPRIATION WHILE EVOLVING IN THE "WORLD MUSIC" SCENE?
Concerning this question, I must admit I had some complexes before. Now I think I found my answer – and it would be quite stupid to pretend to know "the" answer to this truly important questioning. I'm speaking about the fact that I'm a French white man defending music recorded by black men and women, from the time I was not born.
In Voilaaa, our expert on "French songs" and the french repertoire when we're composing in French is Pat Kalla, whose family comes from Cameroon. When we're discussing passionately about High Life music, our expert is Freakistan who comes from western Parisian suburbs.
What we know, what we do, our registers of power and knowledge are not necessarily the ones attributed to the color of our skin. This really helps us to make our music, to overcome some complexes and do what we want to do, not what we would do supposedly regarding who we are as social beings. Our association and my collaboration with different artists in Voilaaa is definitely more important than any social background cause there are rich exchanges.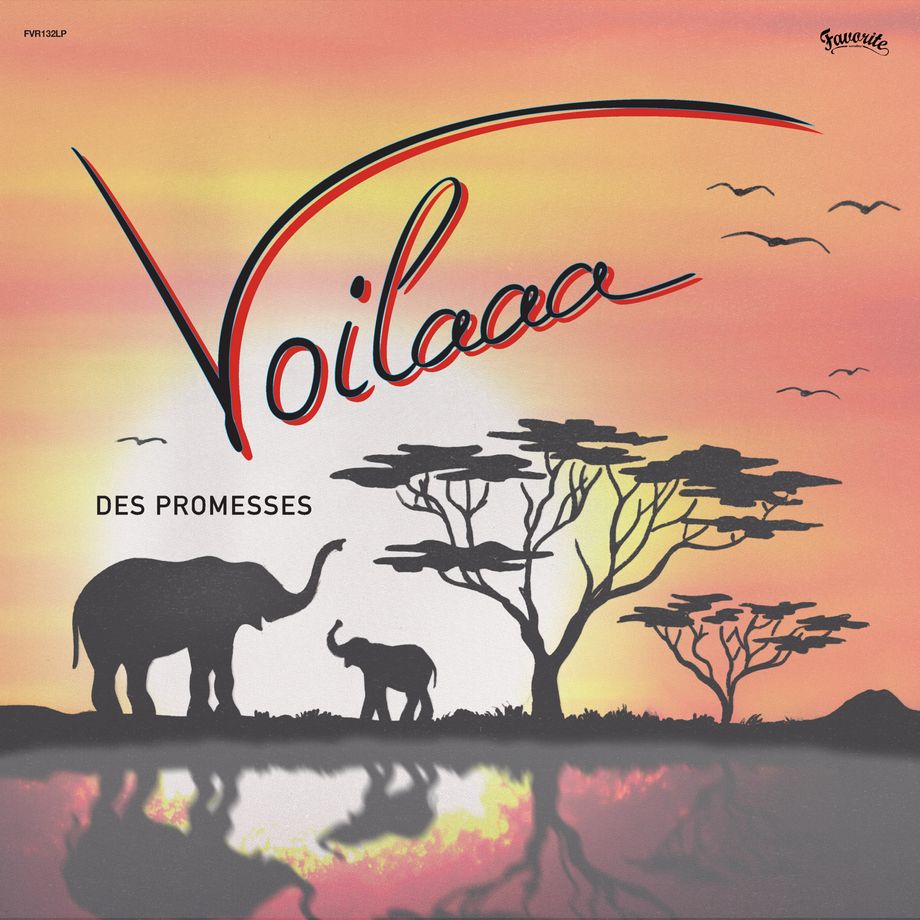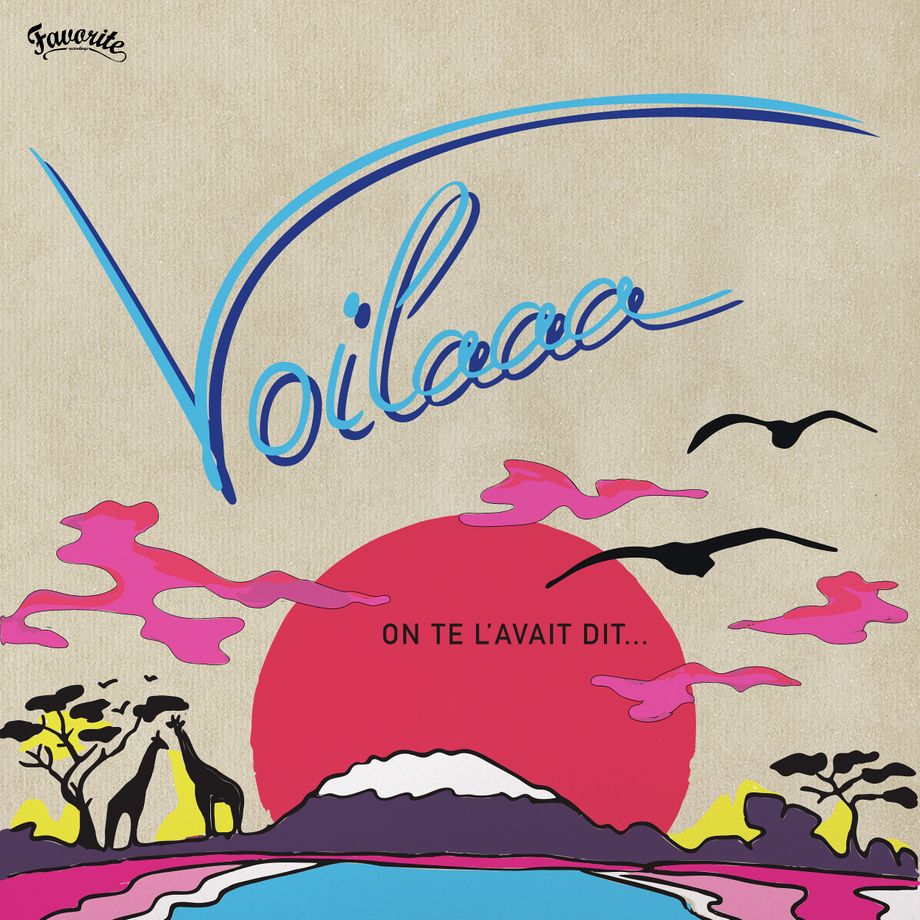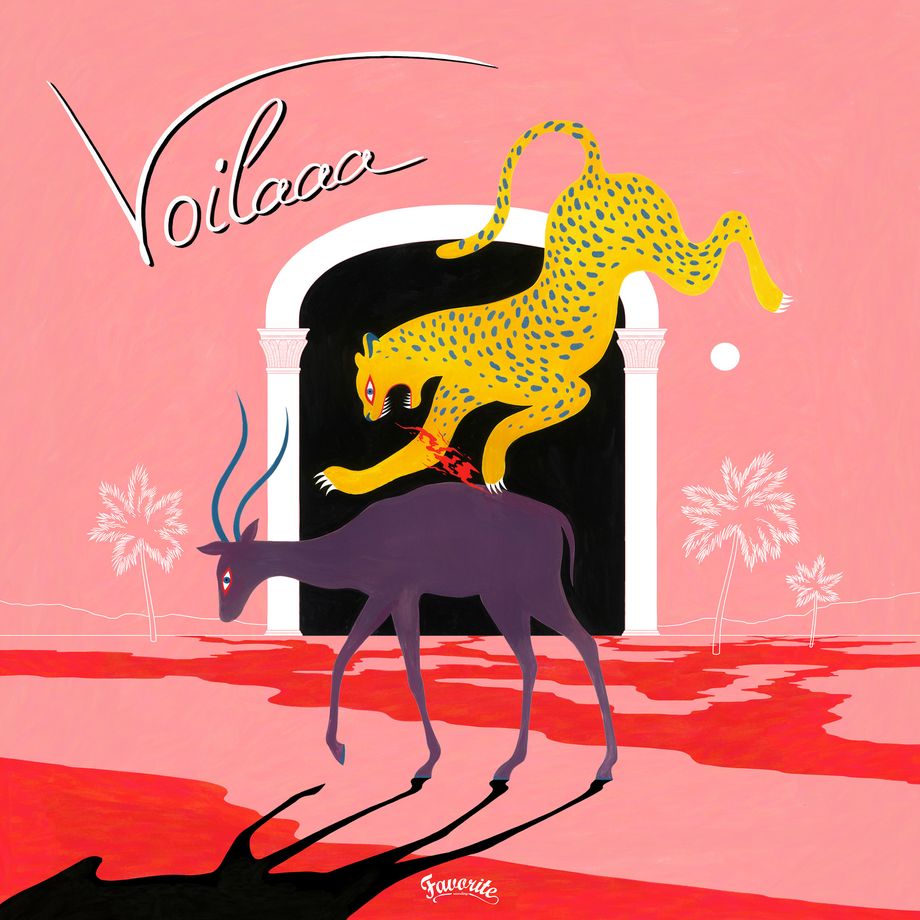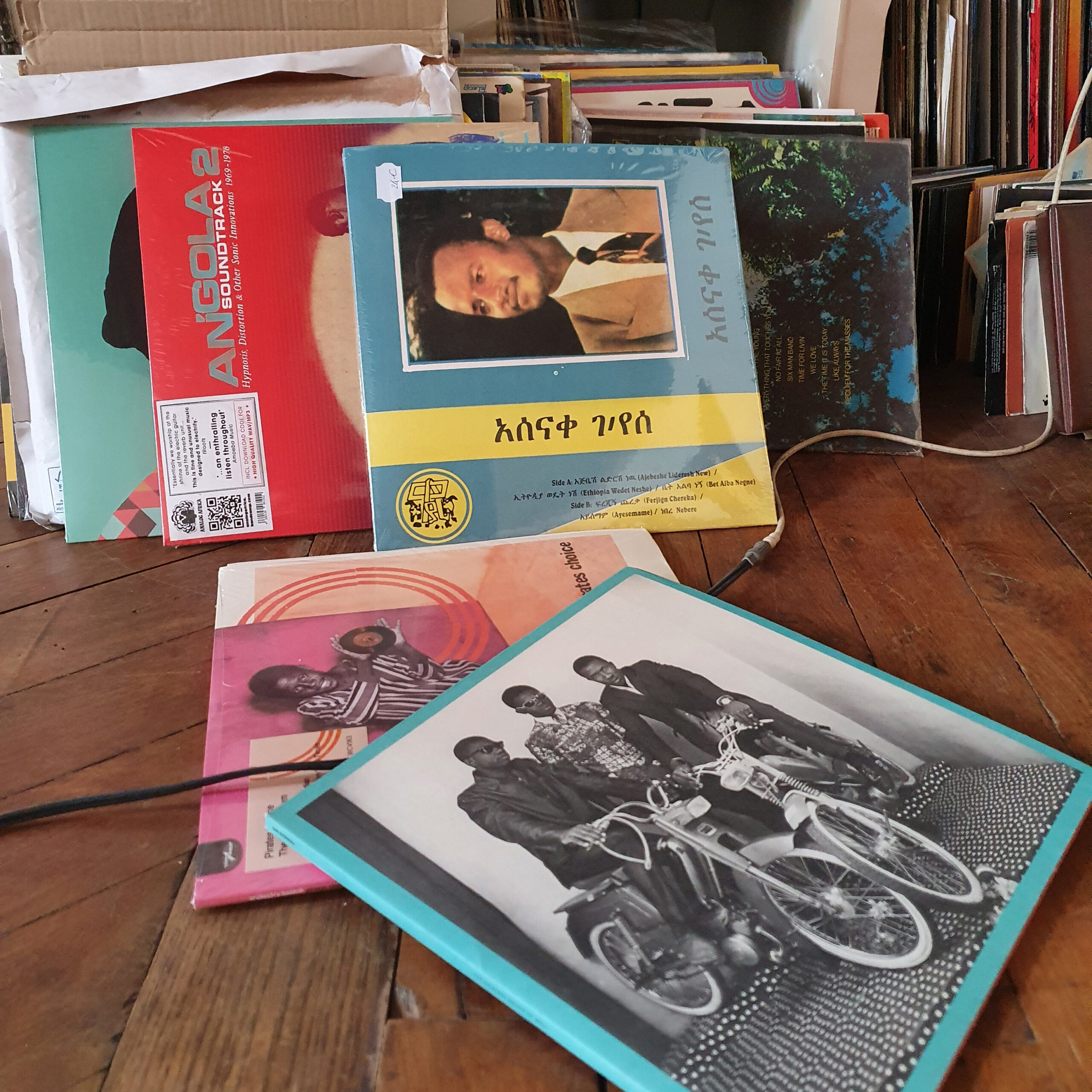 AND YOU DEFINITELY CAN HEAR IT IN YOUR MUSIC, AS YOU'RE USING VARIOUS LANGUAGES IN YOUR SONGS.

In Voilaaa, there can be Wolof from Senegal, Frafra from Ghana, Douala from Cameroon, Bambara, English, West indies Creole and French.
When I'm collaborating, it's mostly with singers as I'm playing most of the instruments on Voilaaa's songs. I like to drive the singers in the studio as I often have a precise idea of what's needed. Using lyrics and crafting songs is a chance to explore the opportunities of the language, which also has the constraints of the language. For me, the voice is definitely a melodic instrument whose articulation must indicate or lead the production. And it really depends on the language used. The different languages don't bring you to the same melodies. I've noticed that French, in y opinion, is one of the most difficult languages to articulate musically, which motivated us to try even harder to get the results we wanted.
AS A MULTI-INSTRUMENTIST, WHAT WAS YOUR FIRST INSTRUMENT?

I began to play the guitar as a teenager and as part of a band, one of the rules was the less-skilled guitarist will take the bass. So I did as I was not a real good guitarist back in the days. And I loved it so today it is my main instrument when touring with bands like Jõao Selva. It's a great instrument, really at the service of the others. Learning bass, you learn also a lot about arrangements and everyone's finding his place in the song.
As a multi-instrumentist, I can play a few instruments, not necessarily with a lot of virtuosity but enough to record. In fact, my advantage is that I know how to make them all work, so all the instruments can communicate and create dynamics. Even with a basic dexterity, this allows me to put the emphasis more on the music's coherence, than on long-trained skills through solos. It echoes the way I listen to music. I have the same approach and I mostly like records which are beautifully arranged, with more feeling than skills.
YOU CERTAINLY HAVE A LOT OF INFLUENCES, FROM DISCO TO REGGAE, FROM THE AFRICAN AND CARIBBEAN AND LATIN MUSIC TO THE BLACK AMERICAN MUSIC. THROUGH ALL OF THESE, WE'LL RECOGNIZE AN ANALOGIC SOUND THAT YOU TRY TO EMULATE. WHAT'S YOUR TIP?
If you take the example of Disco, would it be Jamaican, from New York or African, I think that, like in painting, or cinema, the interesting thing about it comes when it's not glossy or especially high fidelity. A bit lo-fi, a bit dirty, are colours I like. I don't see the perfection of the sound as an end in itself. Disco is exactly the music that supports to have this rawness, this crooked render. Therefore I'm pretty aware that you have to accept a dose of dirtiness instead of precision. I'm quite a fanatic of the productions from the likes of Moodyman or the Super Rail Band from Bamako. They have all in common this imprecision, this lofiness that is part of the final result and the experience. This is exactly what you'll find in cinema or painting – think about the impressionists!
In consequence, I am now quite precise when looking for imprecision. I prefer to use the term "organic" to the term "analogic". This defines my esthetic and my goal: organic music touch people in their body, you don't feel there was a machine in the process. I prefer to define my work by its results rather than its means. Sometimes I use analogic methods to get this organic sound, sometimes I use digital methods. It all depends on the results.
Even when I use synthesisers or drum machines, I try to come closer to the organic side of things. Think about William Onyeabor, Francis Bebey or again Moodymann with his digital samplers: in the end, they all have a super organic and almost alive result which is what I'm looking for in my productions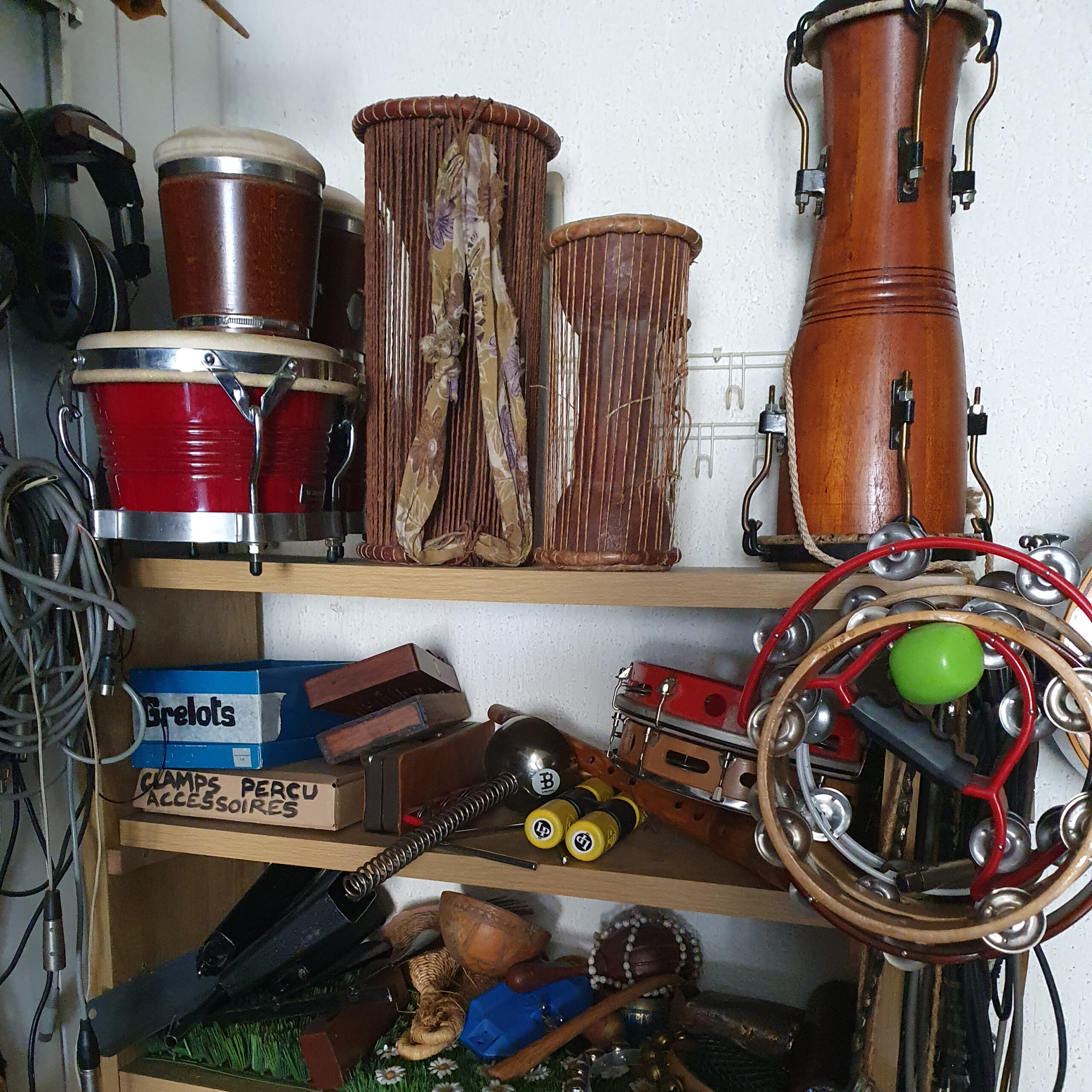 "Some of the percussion you can find in the studio"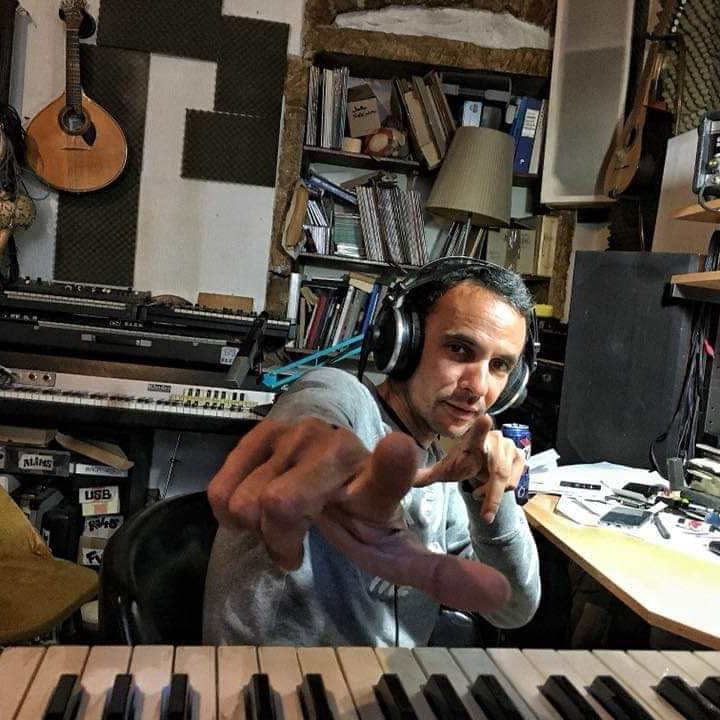 Bruno "Patchworks" Hovart in his studio. Credits: David Walters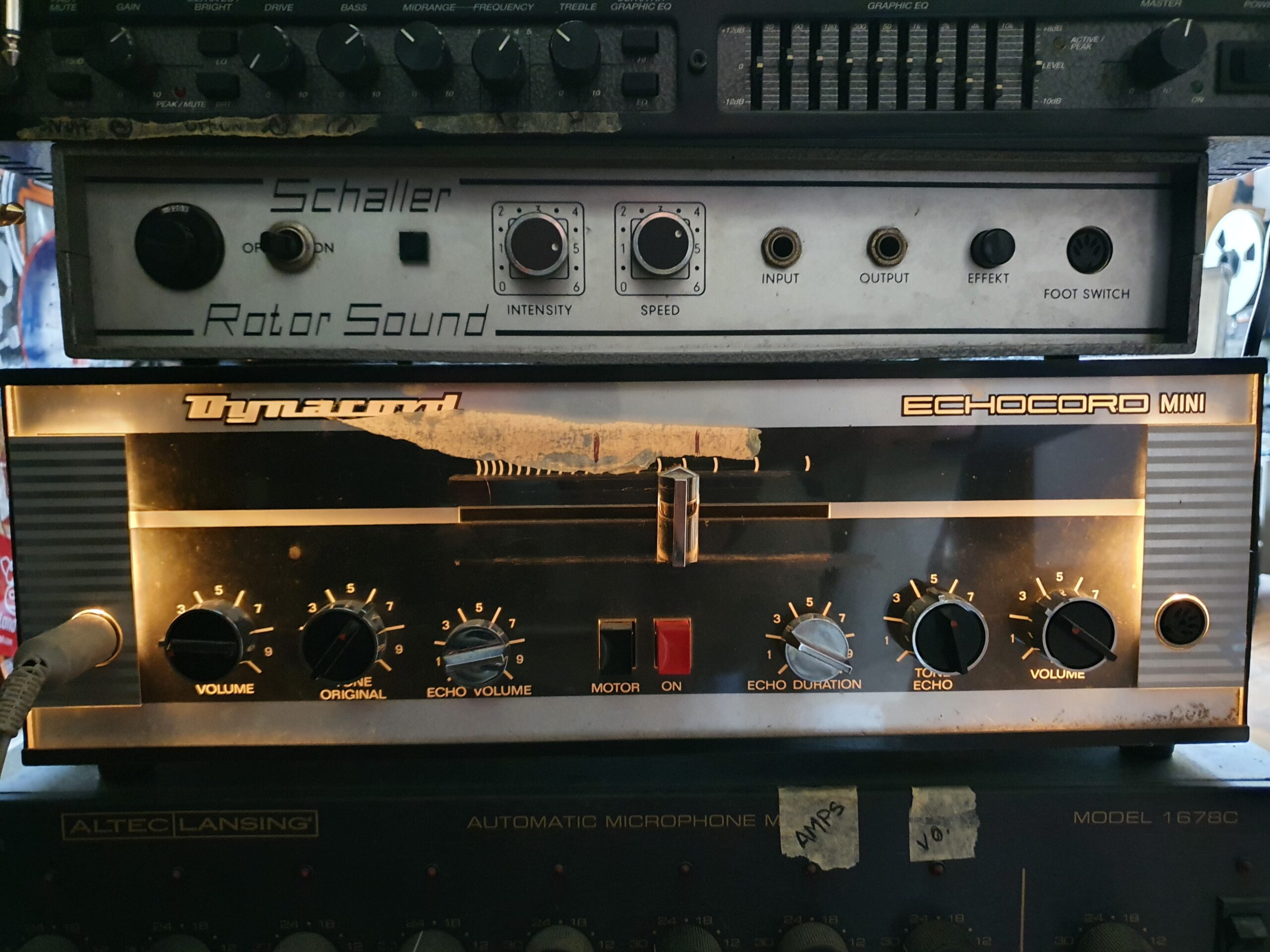 "German tape echo with an amazing character! It brings a magnetic grain to the sound and my Rhodes and guitar takes. Cheap, but efficient!"
WHAT IS THE FIRST ELEMENT YOU BEGIN TO WRITE WHEN COMPOSING A SONG?

It's mostly piano or guitar as I'm working with a harmonic basis but sometimes I just sing a melody firstly recorded on my phone, could it be a rhythm or melody, it's always great to start. I don't have recipes but in the studio, I always try to bring forward spontaneity: sometimes I record Rhodes, guitar and bass very quickly with the same amp and mike, so I'm sure I'm not losing any of my ideas. An idea is so volatile! You better record it straight away.
WHAT'S A CLASSIC DAY IN THE STUDIO?
Beginning of the week, mostly I'm recovering from the gigs of the weekend which are quite exhausting between the travels and the shows.
I'm mostly a "morning" guy, early in the morning I can do a lot of work so I can free my afternoon and get a social life, which is really important. Our work can bring you to stay in the studio all day, which is something I mostly do during winter, but otherwise, I'd rather go out have a beer and meet people.
CAN YOU TELL US A BIT MORE ABOUT THE UPCOMING VOILAAA PROJECTS BESIDES THE NEW 12″ REMIXES EXPECTED FOR MAY 27TH 2022?
The next album of Voilaaa is in the pipeline with a lot of work in progress but no really finished works. It's a record fed by our different live experiences and trips around the world. We're definitely taking more inspiration from the South American continent and the West Indies. There are some songs in the pipeline with Kadans or Kompa influences, mostly influenced by French West Indies. Also, we really had a blast in Ecuador, maybe there will be some productions influenced by Peruvian music.
Actually, this brings me back to our discussion. I don't think you can see music in terms of classic geography, it does not make sense.
Between Salvador de Bahia and Angola, there are hundreds of kilometres but musically, you're really close. In Colombia, in the region of Palenque, you'll hear some of the best High Life music activists. It is no coincidence if a label like Analog Africa now reissues Colombian music. I feel deeply that geographical continents do not overlap over musical continents, there are transatlantic relations always in the process. What we do and our limits are endlessly redefined
THIS ECHOES SOMEHOW THE CREOLISATION BY EDOUARD GLISSANT WHO WROTE "WE HAVE TO REPLACE THE IDEA OF A UNIQUE ROOT WITH THE IDEA OF A RELATION-IDENTITY OR RHIZOME. THIS IS OUR EXPERIENCE AS WEST INDIES PEOPLE". THIS CLEARLY DEFINES A NEW WAY OF THINKING SOCIALISATION AND ACCULTURATION.
Exactly, for me, this is an everyday process. Voilaaa is part of this active creolisation, and this idea is much wider than the simple music field, it is another way to face geography, politics and history!
THIS GLOBAL APPROACH MEANS ALSO YOU SOMETIMES HAVE TO CONSIDER IDIOSYNCRATIC TECHNICS OF PLAYING AND STYLES.
Yes and for example I'm completely fascinated by the soukous guitar or the balafon in the Malian or New Guinean music. These are things where you should show great humility. As far as I'm concerned, I know I won't master these from one day to another. I can't come and say I can play these styles and codes because you need more than a lifetime. My music is mostly instinctive and that's for the best because I will never be a master of kadans or kompa guitar. This is also a humility towards traditional music. Take the Nigerian Igbo Highlife, it is based on mathematical equations! A lot of practice and knowledge is needed to play it just correctly.
In my productions, I often approach a genre from the angle of Soul and Disco productions because this is something that I compose for many decades. I clearly don't have any pretentions, I like naiveness in other's people music, so I assume my own!
But if I do it my way, this also has an interest because I'm inspired. If you listen to Ebo Taylor and got some ideas, nothing should stop you to try and emulate what inspires you.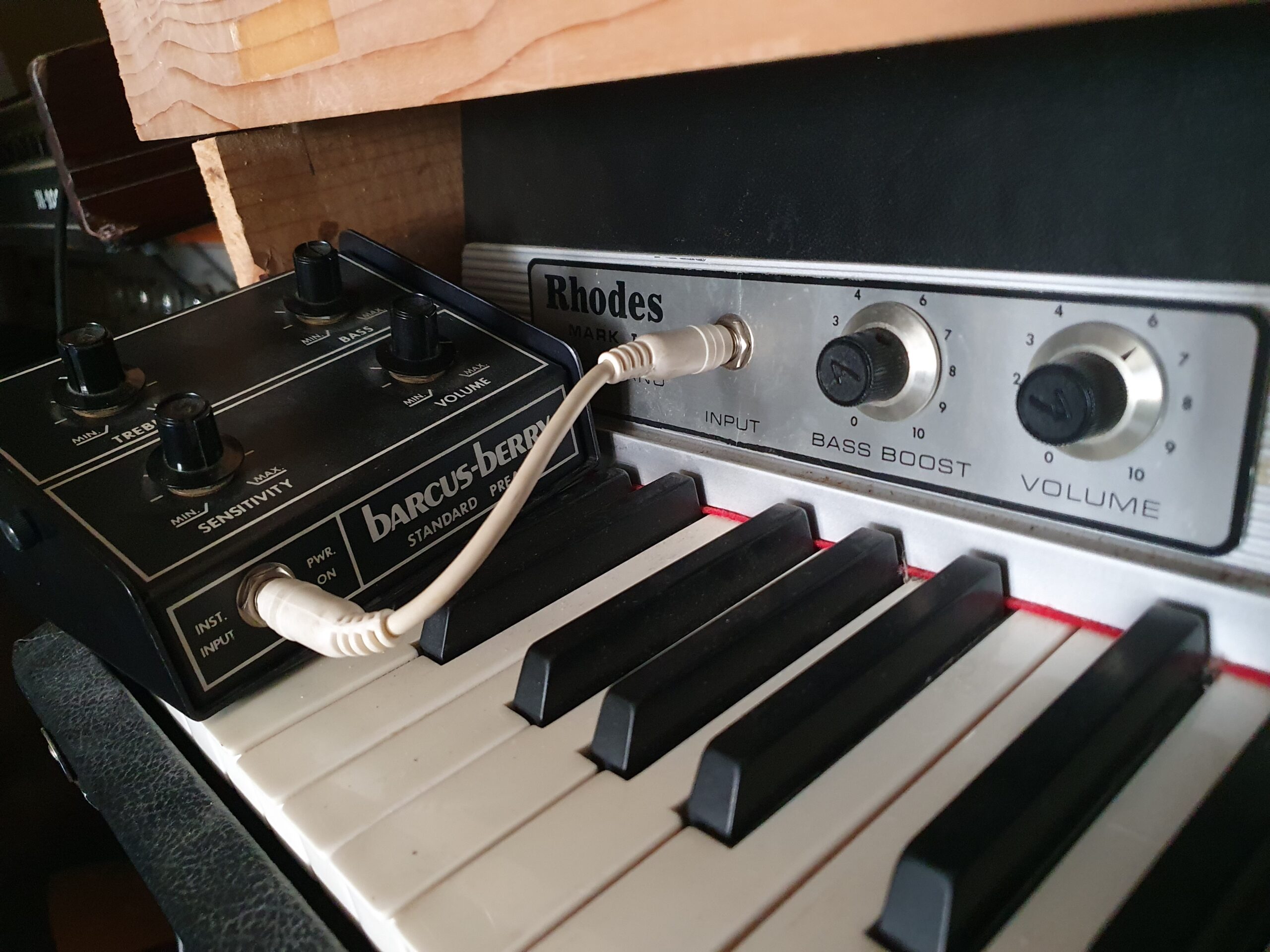 "The Fender Rhodes Mark 1 88 with  Barcus-Berry preamp, originally developped for Jimmy Page from Led Zeppelin so he could adapt his acoustic guitar sound to the live stage!

FINALLY, CAN YOU TELL US A BIT MORE ABOUT YOUR FORTHCOMING EP OF REMIXES?

Yes! This one coming out on May 27th 2022 on Favorite Recordings is a little special as it brings together exclusive versions of some of Voilaaa's most famous songs.
On A side, I asked the DJ and producer JKriv based in NYC to make an even more energetic version of "Ku La Foon (feat. Lass)", a title taken from my last and third album. The result is so powerful, he did an excellent job! I can't wait for deejays to rock it in the club!
Then you'll enjoy a remix of "Ben Bene La (feat. Lass)", also from the last album, reworked by myself as Patchworks, but this time with influnences from the NYC scene and its dancers, which will remind you the very specific New York latin sound, "Spanish Harlem" and Mongo Santamaria. I'm pretty sure this one can give the dancers a lot of joy and inspiration.
On B side, you'll start with a Voilaaa remix of "Tu Mens Devant Moi (feat. Ramatou Traore)", which will find his roots more in the Angolese and Cape Verdean music, with reminescences of Super Mama Djombo from Guinea Bissau. This tropical take on the song gives it an even more sunny aspect in my opinion.
Finally, I made another Patchworks remix from one of my most successful song, "Spies Are Watching Me (feat Sir Jean)". For this one, I took inspiration from the house masters, Moodymann and the Masters at Work but also the UK garage scene. As some may know, I started my career as producer with house and electronic music: I hope you'll enjoy this deep house cut, I had of lot fun remixing this one!