Hawa – My Little Green Box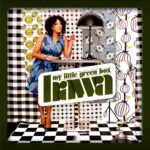 Following last year's critically acclaimed 7inch, young singer HAWA finally presents her first album. Teaming up again with French top producer Patchworks after their recent collaboration on Mr President's hit single "The Best Is Yet To Come", she uncovers the real character of a soul sista, adding a peppy hip-hop catch to the album's vintage and analogic production.
Available on CD, LP & Digital on June  6th 2011.
Nick (Record Kicks / IT): « Wicked Track! »
Simon Harrison (Basic Soul Show / UK): « Some killer summer tracks in there! »
Michael Rütten (Soul Patrol / Soulsearching Radio / DE): « Really into this one here! »
Vincent Provini (FIP Radio / FR): « This record is a bomb!! »
Related show