After the Brazilian Disco Boogie Sounds compilation, Favorite Recordings follows-up with the concept, this time focusing on its homeland language. Digging into the mysterious Charles Maurice's vinyl collection, the label and the DJ extracted 10 amazing hidden dancefloor hits, all produced between 1975 and 1984 within the French music scene.
In the late 70s, like most part of the world, France was deeply touched by the influence of American music. The Disco sound therefore quickly reached the French Pop charts, and as always, a creative and prolific independent scene emerged in the shadow of this trend, with quite unequal results, but also some obscure real classics.
Helped by a close connoisseur friend, DJ and collector Charles Maurice presents a fine selection of what he thinks represent best the amazing energy and quality of this specific movement and period. With 10 rare titles, he draws a perfect picture of the different styles and productions you could find in French record stores at that time;
On one hand, tracks by Overdrive, Marché Noir, Didier Makaga or France-Lise, were mostly composed and produced by underground artists and labels from the French Caribbean and African community, and also filled with the raw spirit and power of this Tropical stamping. On the other hand, tracks by Beckie Bell, Kelly, Le Club, or Bernard Guyvan, were all released by major French labels such as Trëma, Carrere, Disques Vogue, or Pathé Marconi, and created by confirmed independent producers, acting not only in France, but also in Canada and the US.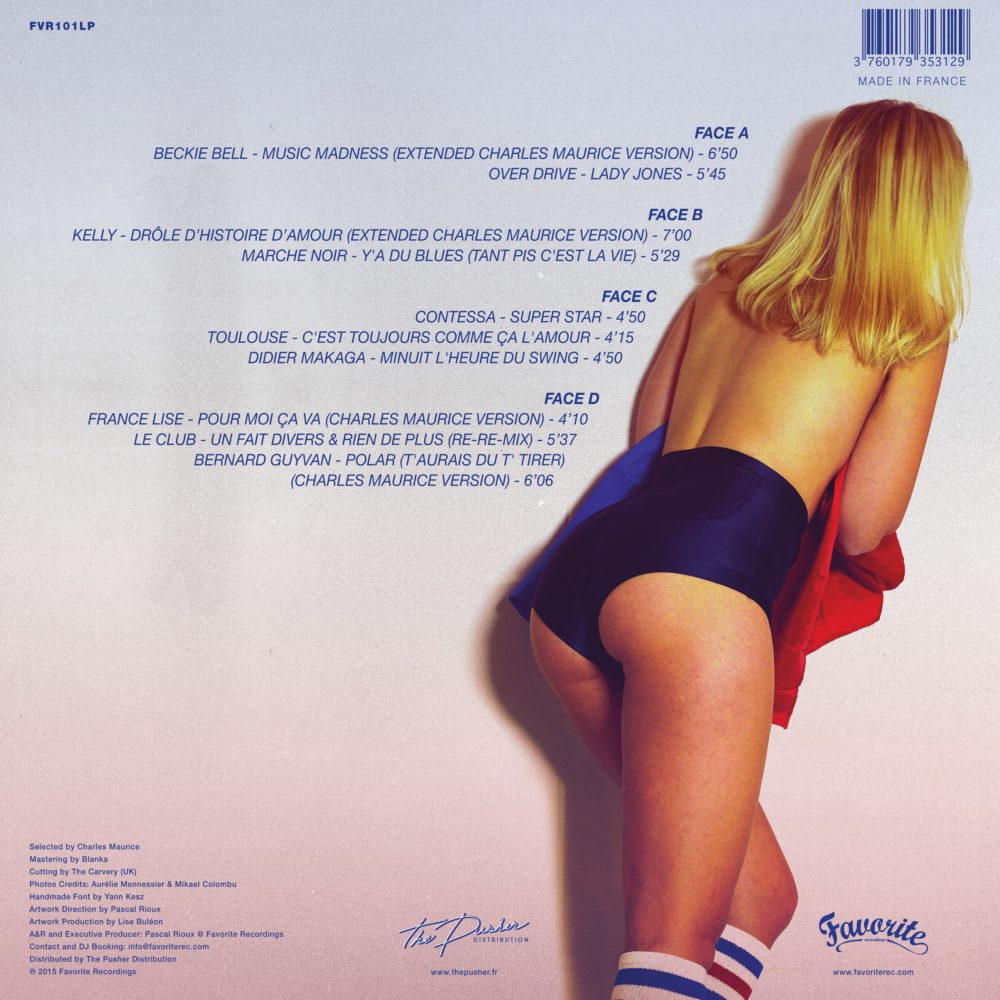 For example, Philippe "Honeyman" Renaux was the founder of Clever label and has credits for Grace Jones, Sheila & B. Devotion, or Gino Soccio to name a few. Canadian composer and producer George Thurston is internationally known as Boule Noire, with his worldwide success "Aimer d'amour". And Pierre "Berjot" Jaubert was part of the famous Lafayette Afro-Rock Band, before becoming a prolific producer who revealed the Disco diva Chantal Curtis among others, collaborated on recordings for Motown or Tom Moulton, and even scooted the lead singer of Vladimir Cosma's most famous hit, "La Boom".
With all this talent and "savoir-faire", each of these 10 forgotten songs had nothing to be ashamed of compared to some majors' Disco hits and productions, but unfortunately didn't get the same fate. Today, Favorite Recordings and Charles Maurice are very proud to shed some light again on these gems, and hopefully offer them a new life on your turntable.
V/A – FRENCH DISCO BOOGIE SOUNDS
(Favorite Recordings / Gatefold 2LP, Ltd CD & Digital / March 30th 2015)
BUY IT HERE
TRACKLIST: