Cléon & Jazzy Pidjay – Freedom Sound 7″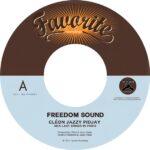 The Parisian DJs duo is back with a shining new 7inch full of Latin & Brazilian Soul-Funk vibes… With raw drums and percussions, these 2 new tracks should warm every dancefloors with their spicy groove!!
Cléon & Jazzy Pidjay have been United through their love of music and hip-hop culture for a while. Dj Cleon is one of the finest producers in France for breakdance battle breaks, also known as a fine wax digger, mixing all kinds of music together, such as Disco, Funk, Soul, Jazz, Break-Beat, Hip-Hop and more old and new records. Alongside his mate Jazzy Pidjay and his great production and mixing' skills, they give a new dancefloor life to these forgotten musical treasures, through funky uptempo tracks.
::::: CLEON & JAZZY PIDJAY – FREEDOM SOUND / SAMBA A L'AEROPORT :::::
(7inch / released October 15th)
BUY IT HERE
DJs FEEDBACKS:
Gilles Peterson (BBC6 / Brownswood): « Cool Shit! »
LeFtO (Studio Brussel/Worldwide Festival/Brownswood): « What can I say? This is just great tropical flavor, instant  dance therapy…. Merci! »
Laurent Garnier (Dj / Le Mouv): « Whaouuuu, quelle class !!! Direct dans mon emission de radio »
Simon Hodge (Craig Charles Radio Show / BBC 6music): « Total suprise with the direction they have taken! This is quite simply excellent and flawless dancefloor jazz. congratulations!!!!! »
Robert Luis (Tru-Thoughts): « Nice! »
Juergen Drimal (Superfly.fm): « Fantastic package, full support on superfly.fm's jazz radioshow « In Heat ». thank you! »
DJ Rahdu (BamaLoveSoul.com): « Who says the summer's gone? Feels like things are just heating up w/Cléon & Jazzy Pidjay! »
Soulist (What The Funk): « Funky as Usual with a Touch of latin and brazilian vibe. Loving Samba a L'aéroport. »
Dj Kwak (Fm Brussel / Strictly Niceness / Focus Vif): « 2 jazz dance slices that will make your socks up … very enjoyable release… «
Julius (LDBK Radio / BE): « Sweet sound! »
Oliver Korthals (Mojo Club // Out Of Spectrum // Byte FM): « Lovely! Good old fashioned jazz sounds put together in a modern way. Pure energy. This will get a spin or more! »
Nickodemus (Turntables on the Hudson): « Beautiful songs… solid release! «
Jason Villani (DJ Lord Lewis) (WESU 88.1 FM): « Beautiful slice of dancefloor jazz and spicy samba, just my flavor! Bring it on. »
Kimberly Hines/Butta (SoulBounce): « Both of these tracks just make you want to get up and dance and/or go on vacation to somewhere tropical. «
m.path.iq (We Are… / Strut / !K7): « Oh so beautiful. this is what my world needs now. timeless jazzdance. »
Toshio Matsuura (UFO / DJ): « Feels good! »
DJ Tomas (Friday Night Session / Google Play): « Very nice instrumentation and performances. « Freedom Sound is my cut, but their both excellent, modern Latin songs. Will definitely be spinning both of these. »