The Melton Brothers Band – Livin' In The City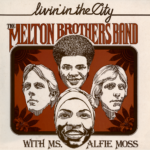 LP Is Prized by Collectors from England, Japan and Sweden to Vermont, New York, California and beyond! The brothers initially produced 250 copies of the colored LP but for whatever reason the rest of the band wasn't backing it so they rounded out the press with 1250 copies of the more visible black and tan version.
Official licence with Liner notes. Thanks to Dale Melton for his excellent collaboration ! More details HERE.
- « After hearing it in Vegas, I realize I need this record in my life. And I think the time is right for more people to know about this record. » – Andre Torres, Editor-In-Chief, Wax Poetics
- « I absolutely love it, the title track in particular. » – Koushik Gnosh
- « Quite amazing! » – Eothen « Egon » Alapatt, Stones Throw Records
- « The mellow, sunshiny madness of its electric pianos and vocal harmonies bathed my mind. » – Ben Velez, Triple5Soul – Brooklyn New York
- « It's wonderful. In fact, the other week I brought it with me to Las Vegas where we (Wax Poetics magazine) were DJing in the shoe room at the Pool fashion trade show (an off-shoot of the ultra-large Magic fashion trade show). Anyway, our DJ spun a couple songs off your record, and he really loved it (as did the other Wax Poetics guys–and the vendors in the shoe room!). » - Brian DiGenti, Editor. Wax Poetics / West Coast
- « Alfie's soaring vocals dance above and below the melody with an astonishing range and self-assured grace that is distinctly reminiscent of the legendary jazz vocalists of her early years. Dale's keyboard workout instantly sets the warm mood, as Dennis keeps the rhythm and Tyrone supplies the addicting boom-bap that simply makes you want to move. The bottom line with this album is that throughout the recording it sounds like they are all having the times of their life, which in turn is quite uplifting. The crisp live recording allows you to visualize the bands energy. During every listen I picture Alfie strutting across the stage as the rest of the band exchange looks of approval, all realizing that they are part of something special. » – Nate Bosshard-Blackey, DJ with show on WRUV FM Burlington 90.1 – Burlington, Vermont