Cléon & Jazzy Pidjay – The Last Morning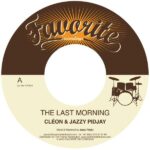 This record is an incredible combo of rare unearthed loops, mixing horn section, fat guitars and amazing percussion, all served on fat break beats by these two passionate musicians. Don't miss the soulfull duet of diggers' first masterpiece, on Favorite Recordings & The Pusher Distribution.
United through their love of music and hip hop culture, Cléon & Jazzy Pidjay hit us back with a new breakadelic 7″ much in the same vein as their remix of Funk League's On & On, featuring the great Sadat X.